Hope you all had beautiful Christmas. I think it was over way too soon, now I have to wait till next year. Hope you ate a lot of cookies and other good stuff. Did Santa brought you any presents? :) I got lots of beautiful things. I guess I was good girl this year :) Promise I will try and be good next year as well.
I am eating so much these days that I've decided to start eating more healthy in next year. Ohhh I have so many new years resolutions. I will share them here on my blog if they become successful. :)
Now that the sales are starting I've already have my eye on some things. So here is my wish list.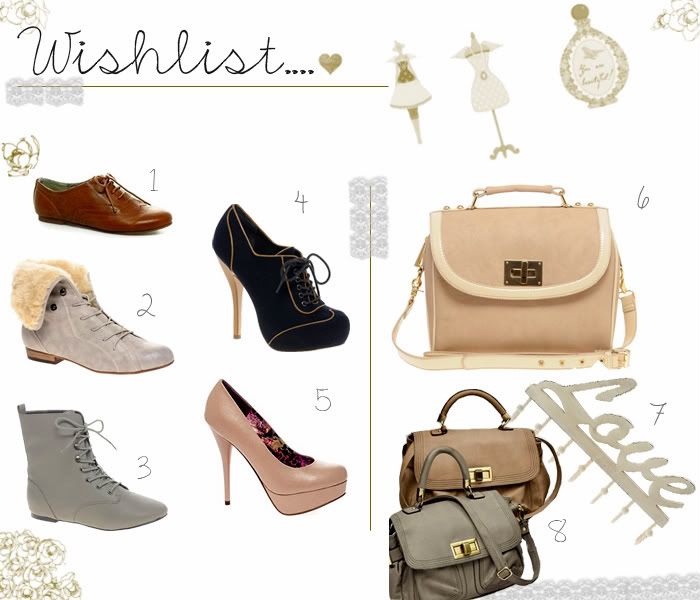 Pictures taken from: Asos
and Next
1.
Brogues - Next
2.
River Island Turtle Faux Fur Lined Flat Boots
3.
London Rebel Flat Lace Up Ankle Boots
4.
ASOS PARADOX Boiled Wool Lace Up Platform Shoe
5.
Nude Platform Court
6.
ASOS Patent Trim Lady Bag
7.
ASOS 'Love' Jewellery Hooks
8.
Elegant Satchel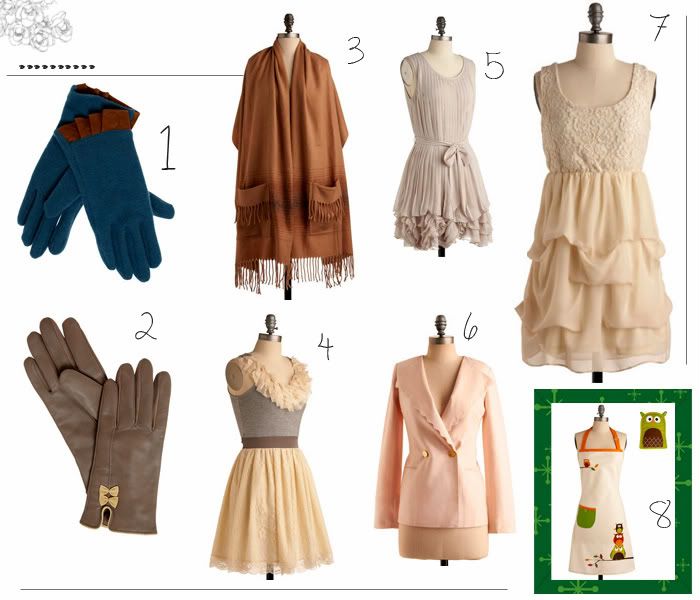 Pictures taken from: ModCloth
1.
Teal City Gloves
2.
Lots of Luxe Gloves
3.
Cinnamon Mocha Scarf
4.
Winter Whimsy Dress
5.
Coffee and Dreams Dress
6.
Winning Qualities Blazer
7.
Confectionately Yours Dress
8.
Owl Cook Dinner Apron and Mitt Set
I love creamy pastel colors! And I also need an apron, this cute little owl one is so perfect for me :) (love owls as you can see
here
, so I really hope it will be restocked soon)
Love,
B
If you would like to be updated please follow me with
Bloglovin'